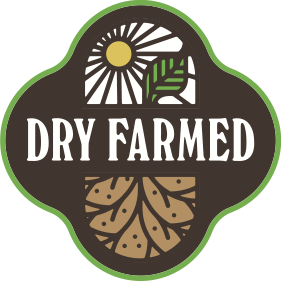 This is a listing of farms that offer dry farmed produce and will be updated regularly. When you 'Buy Dry' you are supporting water & soil stewardship and resilient food systems!
If you are a dry farmer that would like to be added to this directory and/or have access to dry farmed product labels and marketing materials, please fill out this request form.
Washington – link coming soon to listing of Washington dry farmers!
Oregon (listed in order from north to south)
46 North Farm (Astoria) – Dry farmed potatoes, winter squash, zucchini, dry beans
Gale's Meadow Farm (Forest Grove) – 60 varieties of dry farmed tomatoes
Cameron Ridge Farm (Jefferson) – Tomatoes and melons
Sunbow Produce (Corvallis) – Dry farmed Summer squash, winter squash, dried chickpeas, orach, potatoes, watermelons, melons, apples, plums, Italian plums, boysenberries, blackberries, pears, quince
Lilliputopia Farm (Monroe) – Dry farmed cherry tomatoes and squash
Moondogs Farm (Marcola) – Tomatoes, Apples, Tomatillos, Dry Beans, Winter Squash
California
Neukom Family Farm (Willow Creek) – Dry farmed melons, peaches, apples, pluots, plums Asian pears, corn, carrots